A lot of question asked by Newbie whether they placed Ad perfectly or not. So here I'm discussing about Ad Placement Mistakes.
Encouraging accidental clicks
In the example, hyperlinked content formatted similarly to the link unit are placed right below the ad. Because it is difficult to tell the hyperlinked content apart from the ad, this implementation is a violation of the

 

AdSense program policies.



Misleading labels
Directly or indirectly encouraging users to click Google ads is not permitted by our

 

program policies. This would include placing misleading labels such as:


"Related links" 
"Recommended sites"
"My favorite sites"
"Latest news"




Misleading to clicks
Publishers are not allowed to use language to lead users to click Google ads, such as:


"Feel free to click an ad"
"Contribute to the cause, visit an ad"
"Help keep this site running, check out our sponsors"
"We need a new server. Support us!"




Unnatural attention
Publishers are not permitted to bring unnecessary or unnatural attention to their Google ads. Examples of this include:


flashy animations that draw a user's eyes to ads
arrows or other symbols pointing to Google ads




Ads on dynamic content
Publishers may not place ads on pages or sites where dynamic content (such as live chats, instant messaging, and/or auto-refreshing comments) is the primary focus.
Leading to accidental clicks
Please be careful when placing links, Play buttons, download buttons, games, drop-down boxes, or applications near ads because they may lead to accidental clicks and could result in action being taken against your site or your account.

Misleading Placement for Ads on Thank You, Exit, or Error pages
Publishers are not permitted to place ads on any non-content-based pages like thank you, error, or exit pages. These are pages that visitors see on a site before potentially leaving the domain, sometimes after performing a specific action on the site such as a purchase or download. Error pages can be 404 error pages informing the user that there is no content to be found on this page. Ads that are the main focus on these types of pages can confuse a visitor into thinking that the ads are actual content, so we ask that ads are not placed on such pages.
Offering compensation
Offering compensation or any incentive for clicks on ads is strictly prohibited.
Formatting content to mimic ads
In the example, the links above and below the ad unit are formatted very similarly to the ad and it's difficult to tell them apart. Therefore, this implementation doesn't comply with our

 

program policies.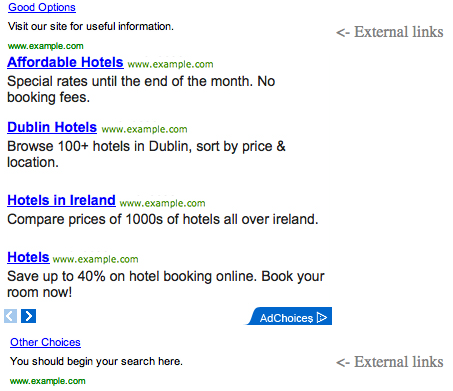 Aligning images with ads
Publishers may not attempt to associate specific images with the individual ads appearing on their sites. Such an implementation may confuse users who assume that the image is directly related to the advertiser's offerings and therefore is a violation of our

 

program policies.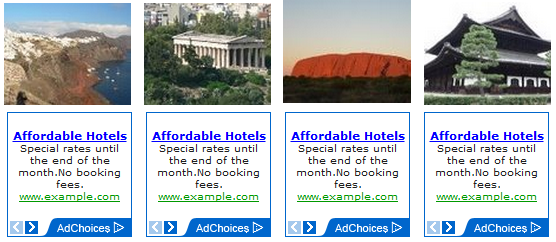 Placing ads under a misleading heading
It's important that visitors to your site are not misled in any way and are able to easily distinguish content from Google ads. This policy prohibits placing ads under misleading headings such as "resources" or "helpful links."
Additionally, as shown below, a website's heading may be interpreted as an inappropriate ad label. Because ads in such a position might be mistaken for links or listings instead of advertisements, such an implementation is considered unacceptable. Monitor your site and its layout carefully to ensure this doesn't happen.
Site layout that pushes content below the fold
Here's an example of site layout that pushes content below the fold, making it hard for users to distinguish content and Google ads.
Ads in a software application
Ads in emails
To ensure the effectiveness of Google ads for both our publishers and advertisers, the Google Adsense program does not permit AdSense ad code to be placed in email messages or newsletters. However, there is an exception for ads placed in emails through the AdSense for feeds product, which enables publishers to distribute their feed content through email.
In addition, ad code may not be placed alongside email messages, such as web-based email programs.
Google ads on the same page with other ads
You're welcome to display Google ads on the same site or page as other third party advertisements provided that the formatting or colors of the third party ads is different enough from that of the Google ads. In other words, if you choose to place non-Google ads on the same site or page as Google ads, it should always be clear to the user that the ads are served by different advertising networks and that the non-Google ads have no association with Google. If the formats are naturally similar, we ask that you choose different color schemes for the competing ads.
Ads on the same page or site as another publisher
Please keep in mind that a maximum of three standard ad units, three link units, and two search boxes may be placed on one webpage. In addition, please be aware that every publisher is responsible for the content of a website on which their ad code is placed. If a website is found in violation of our program policies, we will notify any publisher(s) whose ad code is on the website, and ask you to remove the Google code from that page.
Ads on a hosted website (e.g., Blogger)
Ads on pages behind a login
Displaying a third party site on your page
When a website displays someone else's website within a frame or window on their own site, this is considered framing content. Placing Google ads on such pages is strictly prohibited.
Google content ad limit per page
Currently, AdSense publishers may place up to three AdSense for content units on one webpage. This includes a maximum of one 300x600 ad unit per page. You may also place a maximum of three link units and two search boxes on each webpage.
If you place more than one ad unit on a page, our system will  display unique ads to each ad unit. Because the system automatically displays an optimal number of highly targeted Google ads on each page, in some cases, the maximum number of ads may not always appear. In this case, the ad unit will show as a transparent box, or will contain any alternate ad or color specified in the ad code.
Google link unit limit per page
Maximizing ad space with multiple ad units
Multiple ad units can help optimize your performance by leveraging our large inventory of ads. You can place up to three ad units per page (in addition to three link units). Remember that the best way to measure the effect of multiple ad units is to examine the impact on your overall earnings. Multiple ad units may prove particularly successful for the following pages:
Pages with lots of text, requiring users to scroll down the page.
Forum or message board pages, particularly within threads.
Pages where only smaller ad formats (such as the 125 x125 button) will fit.
Final Words:- 
Hope this article clear many doubts in your mind & help you to place your adsense ads in right place. If you have any questions or doubt then feel free to ask us in comments below.